Stainless Steel Chequered Plates Definition
Chequered Plate, also known as Checker Plate, Tread Plate, Diamond Plate and Durbar Floor Plate, is a type of metal stock with a regular Pattern of raised Diamonds or lines on one side, with the reverse side being featureless.

Checkered Plate is usually Steel, Stainless steel or Aluminum. Steel types are normally made by hot rolling, although modern manufacturers also make a raised and pressed diamond design.

The added Texture reduces the risk of slipping, making diamond plate a solution for stairs, catwalks, walkways, and ramps in industrial settings. Its non-skid properties mean that diamond plate is frequently used on the interior of ambulances and on the footplates of firetrucks. Additional applications include truck beds and trailer floors. Chequered plate can also be used decoratively, particularly highly polished aluminum variants. Manufactured in plastic, diamond plate is marketed as an interlocking tile system to be installed on garage floors, trailers, and exercise rooms.

Stainless Steel Checkered Plate may be used for surface protection against damage from foot traffic or harmful chemicals. Manufactured with polymer variants, inter-locking diamond plate tile is used in areas with high surface-erosive traffic.
Checkered Steel Plate
Production Process of Stainless Checkered Plate
The production process of rolled stainless steel checkered plate products is special. The first problem to be solved is the roll. The periodic pattern on the surface of checkered plate is all rolled onto the stainless steel surface by the rolling force. If roll material is too soft, the surface pattern of the roll is worn, which affects the consistency of roll pattern; if the roll material is too hard, it will increase the processing difficulty of roll pattern. Finally, the common work rolls of the rolling mill were selected as test rolls, and it worked fine.
Weight of Checkered Steel Plate
Thickness
Allowable Dimension Variation
Approx Weight
Diamond
Lentil
Round
2.5
±0.3
21.6
21.3
21.1
3.0
±0.3
25.6
24.4
24.3
3.5
±0.3
29.5
28.4
28.3
4.0
±0.4
33.4
32.4
32.3
4.5
±0.4
37.3
36.4
36.2
5.0
+0.4 -0.5
42.3
40.5
40.2
5.5
+0.4 -0.5
46.2
44.3
44.1
6
+0.5 -0.6
50.1
48.4
48.1
7
+0.6 -0.7
59
52.6
52.4
8
+0.6 -0.8
66.8
56.4
56.2
● The width of the steel plate is 600 ~ 1800mm, and it is advanced by 50mm; the length is 2000 ~ 12000mm, and it is upgraded by 100mm.
● The pattern height is not less than 0.2 times the thickness of the substrate. The dimensions in the figure are not used as a basis for inspection of finished products.
● Steel grades for steel plates are specified in GB/T700, GB/T712 and GB/T4171.
● The mechanical properties of the steel plate are not guaranteed. When the buyer has a request, it may be agreed by both parties in accordance with the relevant standards.
● The steel plate is delivered in hot rolled condition.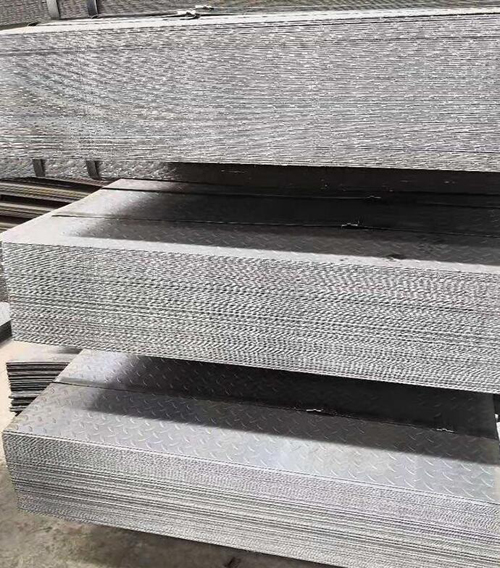 Checkered Steel Plate
Secondly, it is necessary to solve the rolling process problem. When determining the reduction of the finished product pass, the working area is repeatedly discussed and scrutinized, and finally the rolling reduction of the finished product is determined, which is achieved because the rolling force is too small. The roller slips without causing the roller roll surface to be damaged due to large rolling force.
Product quality is the key to win the market and is the key to improving competitiveness. The successful trial rolling of stainless steel tread plates will make a positive contribution to enhancing the competitiveness of stainless steel product.