The basic definition of color coating

Color coated steel plate (commonly known as color coated) is a plate made of galvanized steel plate (hot-dip galvanized, electro-galvanized) and aluminum-zinc coated steel plate as substrate, after surface pretreatment (degreasing and chemical treatment), coated with one or more layers of liquid paint of different colors by a roller coating method, baked and cooled.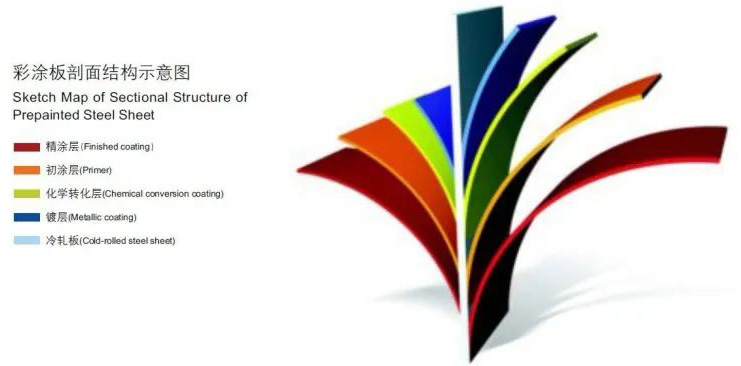 Common coating structure
1. Two coated and two baking (2/2): corrugated tile (corrugated board), not suitable for sandwich board.
2. Two coatings and one baking (2/1): composite board (sandwich board).
3. Two coatings and one baking with M (2/1M): corrugated board and sandwich board for dual-use.
4. One coating and one baking (1/1): the most typical example - Taiwan Changwei.
Purpose of coating
The main purpose of "color coating" is to coat the surface of the object with paint in various ways to form a dry protective film, making it resistant to corrosion such as the atmosphere, pollution and other properties to protect the substrate, while giving the advantages of color, gloss, pattern, good contact, etc. to make the object beautiful. In addition, in special cases, it can also do electrical insulation, fire prevention, anti-bacteria, anti-insect, bonding, color adjustment, temperature indication, etc.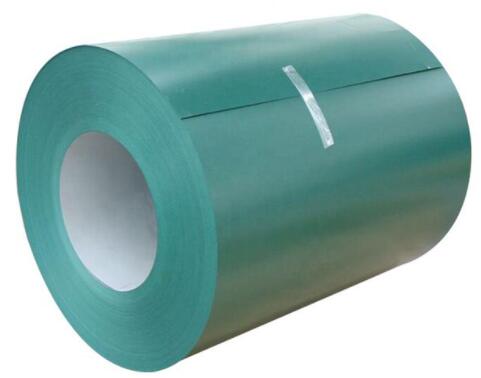 To give an interesting example.
Now the haze is so serious, that the surface of building materials is more vulnerable to pollution, and the cost of cleaning labor is expensive. So is there such a material that can achieve self-cleaning? There is such a special variety in a color coating that can be "self-cleaning".
The self-cleaning color board has an excellent hydrophilic surface, to ensure that the rainwater is fully complementary to the exhibition, washing away the surface of the pollutants. According to the different environmental requirements, there are four kinds of topcoats commonly used.
1. Self-cleaning polyester (PE)
2. Self-cleaning silicone-modified polyester (SMP)
3. Self-cleaning high weather-resistant polyester (HDP)
4. Self-cleaning fluorocarbon (PVDF)
For example, Shanghai Pudong International Airport is using Baosteel's self-cleaning color-coated coils or panels.
Because of the excellent performance and low price, color-coated panels are used in many buildings, so what are the points to note in processing and transportation?
Processing and transportation need to pay attention to.
1. shear processing notes: shear and color coated plate contact table should be laid on the rubber pad and kept clean, minimize the cut surface burr, and timely removal of chips and metal burrs generated when cutting short to prevent coated steel plate in shear stacking mutual scratch.
2. storage and transportation requirements: not wet by water, stored indoors, avoid open-air stacking. If there is dew by rain, it should be unpacked immediately to remove the moisture and used as soon as possible and should be kept in the state of the factory as far as possible, do not pile up, so as not to damage the coated steel coil and steel plate. When loading and unloading, a special spreader should be used to prevent bruising and strangulation.